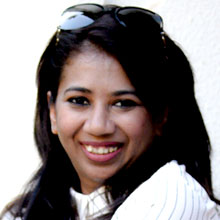 Nirali Bhatia is a Cyber Psychologist & a Consulting Psychotherapist. Cyber Psychology is the study of impact of technology on human behaviour and mind. She is also a certified Cognitive Behavioural Therapist & Internet Addiction Therapist.
She heads a tech company V4Web which specialises in building secure applications with best user experience and is a director at V4WEB Cybersecurity which was recently honoured as top 20 trusted companies in Cybersecurity Domain in India.
Two decades of experience in web technology, makes her native of Cyber space & gives her an edge to understand the influence of technology on its user far better.
She is a TEDx Speaker, Corporate Trainer for POSH and has conducted over 150+ Trainings & Workshops.
She has been quoted in various articles in leading newspapers and news channels. Invited guest speaker & panellist by various prestigious organisations such as UN women, UNICEF, National Commission for Women, NASSCOM, and has also been on panel of debate/s on Times Mirror Now, CNBC, Zee News and many more news channels & Cyber Security conferences.
She is also founder of an anti-cyber bullying organisation – Cyber B.A.A.P. which is an acronym for Cyber Bullying Awareness, Action and Prevention. CyberBAAP provides guidance, counselling & reporting assistance to the victims of cyber bullying & has conducted 100+ awareness & cyber safety sessions along with multiple campaigns to fight against cyberbullying & harassment.
Nirali has also served as the Vice Chairman, Women Safety of India's premiere and non-profit organisation, FSAI (Fire Safety Association of India), which is committed to enhance the safety & security of women in India.
She has been awarded as "India's top Women influencer in Cyber Security" for 2 consecutive years (2020-2022)
Areas of Expertise
Website Usability
Designing for PET – Persuasion, Emotion & Trust
ADA & WCAG Website Accessibility
Section 508 Compliance
Cyber Psychology
Online behaviour analysis
Applied Psychology
Behavioural Psychology
Cognitive Behavioural Therapy & EFT
Drawing analysis
Child and teenage counselling
Metaphor Therapy
Career Guidance & testing
Graphology (for analysis)
Certifications
Usability Analyst, HFI (USA)
Designing for PET, HFI (USA)
Owner Management Programme (OMP), Bhavan's SPJIMR
Applied Psychology & Integrated Approaches
Internet Addiction Therapist
Cognitive Behaviour Therapist
TV Interviews
Press Articles ( - As seen in newspaper | - Link to online article )
The New Indian Express - 30

th

May 2018

The New Indian Express - 15

th

April 2018

Times of India, Indore - 8

th

April 2018

New Indian Express - 12

th

March 2018

Mumbai Mirror - 13

th

September 2017

The New Indian Express - 10

th

September 2017

Legal Era, Page 46, 47 & 48 - September 2017 Edition

Naidunia - 4

th

August 2017

Mid Day - 3

rd

August 2017

DNA, Page 3 - 2

nd

August 2017

Times of India - 2

nd

August 2017

Times Of India, Page 2 - 19

th

May 2017

Bombay Times, Page 3 - 24

th

March 2017

Hindustan Times - 20

th

March 2017

Bombay Times - 11

th

March 2017

Bombay Times - 06

th

March 2017

Loksatta – Viva - 3

rd

June 2016

Mumbai Mirror - 18

th

August 2015
Speaker
Panel discussion at Chetana's Institute of Management & Research during their annual event "ELIXIR 2018: Data reach or breach"
24

th

September 2018

Conducted workshops @ Podar International School, Nerul for children, parents and teachers
24-25

th

August 2018

Conducted back to back awareness sessions on "Cyber Safety & Security for children & Parents of Nath Valley School, Aurangabad
7

th

July 2018

of India's premier and not for profit organisation, FSAI, which is commited to enhance the safety and security of women in India.
6

th

July 2018

2 Days at "Cyber Security in IOT" Training Programme. Panel Discussion and a workshop on Internet Addiction & Cyber Criminology
4-5

th

July 2018

Invited as a Panelist at SECURISK 2018 - conference, organised by Bank of India
13

th

February 2018

Awareness Workshop on Cyber Bullying - Educated & Sensitised young students of Ecole Mondiale World School, Juhu
10

th

February 2018

Invited as a panelist at "TechNext India 2018 - Annual-Academia Conference & Awards" at IIT Powai, Mumbai
10-11

th

February 2018

Invited as a Panelist at first ever Cyber Frauds, Investigations and Forensics Conference (Cyber FIF- C) organised by Computer Society of India (CSI) - Mumbai Chapter
11-12

th

January 2018

Session for children at Abeda Inamdar Jr. College and "S M Choksey College, Pune
8

th

January 2018

Talk on Highlighting the Indian Scenario of Cyber Bullying at The National Cyber Psychology Conference

Guest speaker at The National Cyber Psychology Conference held at Welingkar College
20

th

January 2017

Workshop for teachers & staff at Jamnabai Narsee School(JNS) ICSE and Jamnabai Narsee International School (JNIS) IB
30

th

November 2017

Conducted Training Program over 2 days & 4 batches for about 350 teachers from varous schools of Pune - The next step of "#wefightcc" an initiative by Pune Police.
27-28

th

November 2017

Panel discussion at Conference on CyberSecurity at Pune, organised by Pune Cyber Police
11

th

November 2017

Cyber Safety

Awareness workshop for students at Arya Vidya Mandir School, Bandra West & East


September 2017

Causes & Effects of Social Networking

Talk for Parents at Arya Vidya Mandir School, Bandra West & East


August 2017

Blue Whale Challenge

Awareness talk for students & parents at MET Rishikul Vidyalaya, Bandra west


July-August 2017

Awareness workshop at Arya Vidya Mandir School, Juhu
16

th

December 2016

Careers in Psychology

Talk at Lilavatibai Podar High School, Santacruz (West)


September 2016

Talk at Computer Society of India (CSI), Mumbai


August 2016

Speaker at Institute of Behavioural Science, Gujarat Forensic Sciences University for the Cyber Psychology Seminar


February 2015

Published in a Special Edition Booklet by National Crime Agency, UK and Rotary Club, Pune


February 2015

Panel of speakers on NASSCOM's Data Security Councils of India for its Annual Information Security Summit


December 2014
Workshops Conducted
Stress and Anxiety Management
Effect of Digital Games on Human Brain
Bullying in the Cyberspace – For teens & young adults
Parenting equations - For parents & individuals
Parenting in digital age – Strategies & Prevention
Career guidance – Conventional & New Age careers
Cyber etiquettes – For teens & young adults
Anti-bullying campaigns (ABC) for various schools
– Short plays to communicate effects & actions against Cyber bullying & physical bullying
Contact