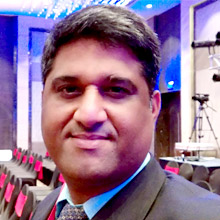 Ritesh Bhatia is a is a Cyber Crime Investigator, Cyber Security Expert and Data Privacy Consultant. He is well known for Cybercrime Prevention and Investigations and thus has been successful in solving many cases for corporates as well as law enforcement agencies. Ritesh has an experience of 16+ years in the cyber space and has secured over thousands of computers, servers and other devices in more than 20 types of industries.
He is the founder director of V4WEB - a top 25-company well known for creating secure websites and web applications.
He is on the board of many companies, serving as a Cyber Security Consultant and Auditor. He has been highly successful in securing systems and critical business information from cyber attacks. His key areas of interest include Protection of Sensitive Personal Data, Security Audits, Risk Assessment, Business Continuity, Disaster Recovery, New Age Cybercrimes, Ransomware, Dark Web and Cyber Forensics. His views on trending cybercrimes and cyber security have been published by many media houses. He frequently appears on national television channels which seek his opinions on the trending cyber crime issues.
Ritesh has been a very sought after speaker when it comes to creating awareness on cyber crimes, data privacy, cyber security and prevention. He has been a distinguished guest at many organisations such as RBI, Anti Narcotics Cell, Economic Offences Wing, where he spoke on new age cybercrimes, data privacy and dark web.
Ritesh has also founded an anti cyber bullying organisation called Cyber B.A.A.P. which stands for Cyber Bullying Awareness, Action and Prevention.
Areas of Expertise
Cybercrime Investigations

Cyber Security

Cyber Audits

Data Privacy

Dark Net / Dark Web

Information Security Management System (ISO 27001)

Business Continuity and Disaster Recovery
Projects
Carried out risk assessment and security management for medium and large companies

Assisted Mumbai police in solving several cases

Successfully solved more than 100 cyber crime cases

Implementation of 3-2-1 policy of data backup

System hardening

Conducted various workshops and trainings in Cyber security
Technical Certifications
Certified Privacy Lead Assessor - DSCI (Nasscom)

Data Privacy Professional - DSCI

ISO 27001:2013 Lead Implementer

Certified Ethical Hacker - EC Council, USA

Diploma in Cyber Law -Government Law College, Mumbai

Certified Cyber Forensics Analyst-Asian Law School

ISO 27001:2013 Lead Auditor-British Standards Institute (in progress)

Certified Cyber Security Professional- CDAC

Organizational Data Security Fundamentals- Cybrary

End User Security Awareness- Cybrary
Services
Cybercrime Investigations

IT Security Audits

Implementing Information Security Management Systems (ISMS)

Digital Forensics

Cyber law consultancy

System hardening

Software Compliance and Dispute Resolution for Microsoft, Adobe, Autodesk and others

Infrastructure and Data Security

Source Code Review and Application Security

Cyber Security Awareness, Drills and Training

Vulnerability Assessment and Penetration testing

Business Continuity and Disaster Recovery
TV Interviews
Articles
Bullies find a hiding place on social media
Experts split on laws to tackle e-messages that fuel panic
Long legal process hampers police's efforts to detect cases
Bharatcoin to help India go cashless?
Ex-boyfriend extorts Rs 65L from Mira Road woman over FB pics
E-wallets now used to siphon money from debit and credit cards
Cashless economy may boost cyber crime: Experts
A Cashless Economy Will Lead To More Cybercrime, Experts Say
Salman Khan starrer Sultan leaked online, is 'out' abroad, say cyber crime experts - 6th July 2016
Cyber crime: It can get knotty at times
Seminars, Conferences and Talks
Cyber security situations while moving from Internet to IoT - Moderator of a Panel Discussion at the 3rd IoT Summit 2017 Conference, Mumbai

Staying Safe in the Cyber Space - A talk given to college students of SIA College, Dombivli

Securing Yourself in the Cyber Space - A talk given to the Department of Economics at Mumbai University

Cyber Crime Prevention and Data Privacy - Chief Guest and Speaker at the 44th Memorial Lecture held at Lala Lajpatrai College, Mumbai

Upcoming Cybercrimes of 2017 - A talk given to Economic Offence Wing (EOW), Mumbai

Protecting Businesses In the Cyber Space - A lecture to Small and Medium Business Owners at SP Jain School of Global Management

Hands On Workshop on Cybercrime Investigations and Prevention - Universal College of Engineering, Vasai

Digital Wallet Frauds - Training provided to Cyber Crime Cell, BKC

Techniques Used By New Age Cyber Criminals - A training session to Reserve Bank of India (RBI), BKC

How to Keep Children Safe in the Cyber Space - Talk to Parents of Arya Vidya Mandir (AVM) School, Juhu

Human Rights and Privacy in the Cyber Space - Guest Speaker at Mumbai University

New Age Cyber Crimes and Prevention - Guest Speaker at Swadeshi Manthan arranged by Swadeshi Jagran Manch in Association with ABVP

Cybercrime Awareness and Prevention - Orientation Lecture held for Faculty of Mumbai University

New Age Cyber Crimes and Prevention for Small and Medium Businesses - Guest Speaker at SP Jain Centre of Global Management

Cyber Security for Small and Medium Businesses - Special Talk at Council for Leather Exports

Cyber Crime Awareness and Prevention - Guest Speaker at CSI-Infoconn 2016

Cyber Crime Awareness and Prevention - Speaker, MET Rishikul Vidyalaya, Mumbai

Careers in Cyber Security - Guest Speaker at Lilavati Podar School, Mumbai

IT Act/Cyber Laws - Guest Speaker SP Jain Institute of Managment and Research

Dark Net -Anti Narcotics Cell, Mumbai
Memberships
Information Systems Audit and Controls Association (ISACA)

Data Security Council of India

Computer Society of India
Contact