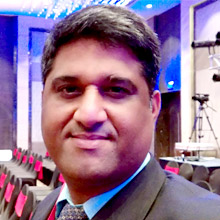 Ritesh Bhatia is a is a Cyber Crime Investigator, Cyber Security Expert and Data Privacy Consultant. He is well known for Cybercrime Prevention and Investigations and thus has been successful in solving many cases for corporates as well as law enforcement agencies. He was recently awarded THE BEST INDIVIDUAL IN CREATING CYBERSECURITY AWARENESS by The Computer Society of India. Ritesh has an experience of 16+ years in the cyber space and has secured over thousands of computers, servers and other devices in more than 20 types of industries.
He is the founder director of V4WEB - a top 25-company well known for creating secure websites and web applications.
He is on the board of many companies, serving as a Cyber Security Consultant and Auditor. He has been highly successful in securing systems and critical business information from cyber attacks. His key areas of interest include Protection of Sensitive Personal Data, Security Audits, Risk Assessment, Business Continuity, Disaster Recovery, New Age Cybercrimes, Ransomware, Dark Web and Cyber Forensics. His views on trending cybercrimes and cyber security have been published by many media houses. He frequently appears on national television channels which seek his opinions on the trending cyber crime issues.
Ritesh has been a very sought after speaker when it comes to creating awareness on cyber crimes, data privacy, cyber security and prevention. He has been a distinguished guest at many organisations such as RBI, Anti Narcotics Cell, Economic Offences Wing, where he spoke on new age cybercrimes, data privacy and dark web.
Ritesh has also founded an anti cyber bullying organisation called Cyber B.A.A.P. which stands for Cyber Bullying Awareness, Action and Prevention.
Areas of Expertise
Cybercrime Investigations

Cyber Security

Cyber Audits

Data Privacy

Dark Net / Dark Web Research

Information Security Management System (ISO 27001)

Business Continuity and Disaster Recovery
Projects
Carried out risk assessment and security management for medium and large companies

Assisted Mumbai police in solving several cases

Successfully solved more than 100 cyber crime cases

Implementation of 3-2-1 policy of data backup

System hardening

Conducted various workshops and trainings in Cyber security
Technical Certifications
Certified Privacy Lead Assessor - DSCI (Nasscom)

Data Privacy Professional - DSCI

ISO 27001:2013 Lead Implementer

Certified Ethical Hacker - EC Council, USA

Diploma in Cyber Law -Government Law College, Mumbai

Certified Cyber Forensics Analyst-Asian Law School

ISO 27001:2013 Lead Auditor-British Standards Institute (in progress)

Certified Cyber Security Professional- CDAC

Organizational Data Security Fundamentals- Cybrary

End User Security Awareness- Cybrary
Services
Cybercrime Investigations

IT Security Audits

Implementing Information Security Management Systems (ISMS)

Digital Forensics

Cyber law consultancy

System hardening

Software Compliance and Dispute Resolution for Microsoft, Adobe, Autodesk and others

Infrastructure and Data Security

Source Code Review and Application Security

Cyber Security Awareness, Drills and Training

Vulnerability Assessment and Penetration testing

Business Continuity and Disaster Recovery
Awards
TV Interviews - National ( - 18 Videos )
TV Interviews - International
Radio Interviews
Wanna Cry Ransomware Prevention

Rj Prerna - 17

th

May 2017

Wanna Cry Ransomware Awareness

Rj Suren - 16th May 2017
Press - International
Cyberattack spreads across the globe, but its origins and purpose remain murky
Press - National ( - As seen in newspaper | - Link to online article )
How Significant Was Breach of 6,000 Indian Enterprises?

Data Breach Today - 9

th

October 2017

Bank refuses to refund man who lost Rs 87,000 at Pune-Mumbai toll plaza

Mid Day - 13

th

September 2017

Card- ened criminals siphon ₹ 87k from Pune man's card |

Mid Day - 12

th

September 2017

Schools hold workshops to caution parents about Blue Whale challenge |

Times of India - 7

th

September 2017

50 Shades of blue

The Week - 3

rd

September 2017

Blue Whale Challenge: Centre's call for ban on the game is a good political statement, but it's not feasible

Firstpost - 18

th

August 2017

Cybercrime on the rise in Mumbai, but experts still not geared up

Hindustan Times - 7

th

August 2017

Pandemic in India can become the victim of online suicide game, know how

Naidunia - 4

th

August 2017

Mumbai: Why banning Blue Whale game is difficult, even after CM Fadnavis' assurance

The Free Press Journal - 3

rd

August 2017

Here's why we can't ban Blue Whale, Mr. CM | |

Mid Day, Page 1, Page 6 - 3

rd

August 2017

Mobile Apps Come Under Lens for Violating Data Privacy

InfoRisk Today - 02

nd

August 2017

Andheri teen's leap to death: CM orders probe |

Times of India - 02

nd

August 2017

210 Indian Government Websites Expose Personal Data

Gov Info Security - 21

st

July 2017

Mumbai cops seek Twitter's help to retrieve AIB's deleted tweet of PM Modi |

Hindustan Times, Page 2 - 17

th

July 2017

Beware! Someone's eyeing your card pin

Pune Times, Page 1 - 15

th

July 2017

Beware! Someone's eyeing your card pin |

Times of India - Bombay Times Page 1-2, 13

th

July 2017

Did you send this email? Ask your biz partner, client before transferring cash:Mumbai police

Hindustan Times - 3

rd

July 2017

Would Discounts on Windows Help Improve Security in India?

InfoRisk Today - 6

th

July 2017

Tips to Avoid Cyber Crime

Naidunia - Chhattisgarh, Page 1 - 27

th

June 2017

Cyber Expert says - Be careful or else you will become the victims of crime

Patrika - Chhattisgarh, Page 1 - 21

st

June 2017

Measures to protect the youth from cyber crime

Jagran - Chhattisgarh, Page 1 - 21

st

June 2017

Change password once a month, do not share on social sites personal number

Dainik Bhaskar - Chhattisgarh, Page 1 - 21

st

June 2017

Imposter dupes woman of ₹30K by offering to up her credit card limit

Hindustan Times - 12

th

June 2017

FDI in power may hit reciprocity wall

DNA - Money, Page 1 - 24

th

May 2016

Pirates of the Cyber World

OPEN Magazine - 19

th

May 2017

KEM Hospital holds debit card and PIN to ransom

Mid Day - 16

th

May 2017

Two letters in email ID cost pvt firm ₹35 lakh

Hindustan Times, Page 2 - 8

th

May 2017

Cloud Providers Serving Government Must Store Data in India

InfoRisk Today - 2

nd

May 2017

Bullies find a hiding place on social media

Hindustan Times, Page 2 - 20

th

March 2017

Experts split on laws to tackle e-messages that fuel panic

Times of India,Page 2 - 7

th

Feb 2017

Long legal process hampers police's efforts to detect cases

Hindustan Times - 23

rd

Jan 2017

Bharatcoin to help India go cashless?

Hindustan Times - 10

th

Jan 2017

Ex-boyfriend extorts Rs 65L from Mira Road woman over FB pics

Times of India - 1

st

Jan 2017

E-wallets now used to siphon money from debit and credit cards

Times of India, Page 2 - 21

st

December 2016

Cashless economy may boost cyber crime: Experts

Hindustan Times - 5

th

December 2016

A Cashless Economy Will Lead To More Cybercrime, Experts Say - 5

th

December 2016
Hack and Run

Open Magazine - 2

th

September 2016

Salman Khan starrer Sultan leaked online, is 'out' abroad, say cyber crime experts - 6

th

July 2016
Cyber crime: It can get knotty at times

Hindustan Times - 29

th

June 2016
Seminars & Conferences
Compromising Citizens Privacy for National Interest - Panelist at The Policy Debate conducted by Government Law College.

Sensitive Personal Data or Information - Keynote Speaker at Infocomm India, Mumbai, 27th Sep'17

Dark Web - Speaker at Infocomm India, Mumbai, 26th Sep '17

Dark Web - Introduction to the dirty, deadly and disturbing side of internet. Keynote speaker at Defence Institute of Advanced Technology's Conference organised by DRDO, Ministry of Defence

Interpol World 2017 - Special Invitee for the Interpol World 2017 Congress held in Singapore, 4th to 7th July

5 day Stay Safe Online Programme for children of Chhattisgarh State - Guest Speaker for UNICEF and Chhattisgarh Police, 21st June to 25th June, 2017

Understanding Private Sensitive Data or Information in the Indian Context - Speaker at BFSI Cyber Security Symposium, 16th June 2017, Mumbai

Cyber security situations while moving from Internet to IoT - Moderator of a Panel Discussion at the 3rd IoT Summit 2017 Conference, Mumbai

Cyber Crime Awareness and Prevention - Guest Speaker at CSI-Infoconn 2016

Sensitive Personal Data or Information - Keynote Speaker at Infocomm India, Mumbai, 27th Sep'17

Dark Web - Speaker at Infocomm India, Mumbai, 26th Sep '17
Cyber Safety Awareness Campaigns
Cyber Security for the Youth - A talk given to students of SIES College, Sion

Securing Businesses from Cyber Frauds - Talk given to Marathi Young Entrepreneurs and Constructors & Developers Association, Pune

Card Frauds & Prevention - A talk given to students of Mithibhai College

Being Safe in the Cyber Space - Invited and organised by FICCI Flo Pune Chapter at Taj Vivanta, Pune

Predators in the Cyber World - A talk given to the secondary students of MET Rishikul Vidyalaya, Bandra

Facebook Crimes and Prevention - Talk given at CSI, Mumbai Chapter

Staying Safe in the Cyber Space - A talk given to college students of SIA College, Dombivli

Securing Yourself in the Cyber Space - A talk given to the Department of Economics at Mumbai University

Cyber Crime Prevention and Data Privacy - Chief Guest and Speaker at the 44th Memorial Lecture held at Lala Lajpatrai College, Mumbai

Upcoming Cybercrimes of 2017 - A talk given to Economic Offence Wing (EOW), Mumbai

Protecting Businesses In the Cyber Space - A lecture to Small and Medium Business Owners at SP Jain School of Global Management

Hands On Workshop on Cybercrime Investigations and Prevention - Universal College of Engineering, Vasai

Digital Wallet Frauds - Training provided to Cyber Crime Cell, BKC

Techniques Used By New Age Cyber Criminals - A training session to Reserve Bank of India (RBI), BKC

How to Keep Children Safe in the Cyber Space - Talk to Parents of Arya Vidya Mandir (AVM) School, Juhu

Human Rights and Privacy in the Cyber Space - Guest Speaker at Mumbai University

New Age Cyber Crimes and Prevention - Guest Speaker at Swadeshi Manthan arranged by Swadeshi Jagran Manch in Association with ABVP

Cybercrime Awareness and Prevention - Orientation Lecture held for Faculty of Mumbai University

New Age Cyber Crimes and Prevention for Small and Medium Businesses - Guest Speaker at SP Jain Centre of Global Management

Cyber Security for Small and Medium Businesses - Special Talk at Council for Leather Exports

Cyber Crime Awareness and Prevention - Speaker, MET Rishikul Vidyalaya, Mumbai

Careers in Cyber Security - Guest Speaker at Lilavati Podar School, Mumbai

IT Act/Cyber Laws - Guest Speaker SP Jain Institute of Managment and Research

Dark Net -Anti Narcotics Cell, Mumbai
Memberships
Information Systems Audit and Controls Association (ISACA)

Data Security Council of India

Computer Society of India
Contact